Introduction to extraordinary boat-adventures in movies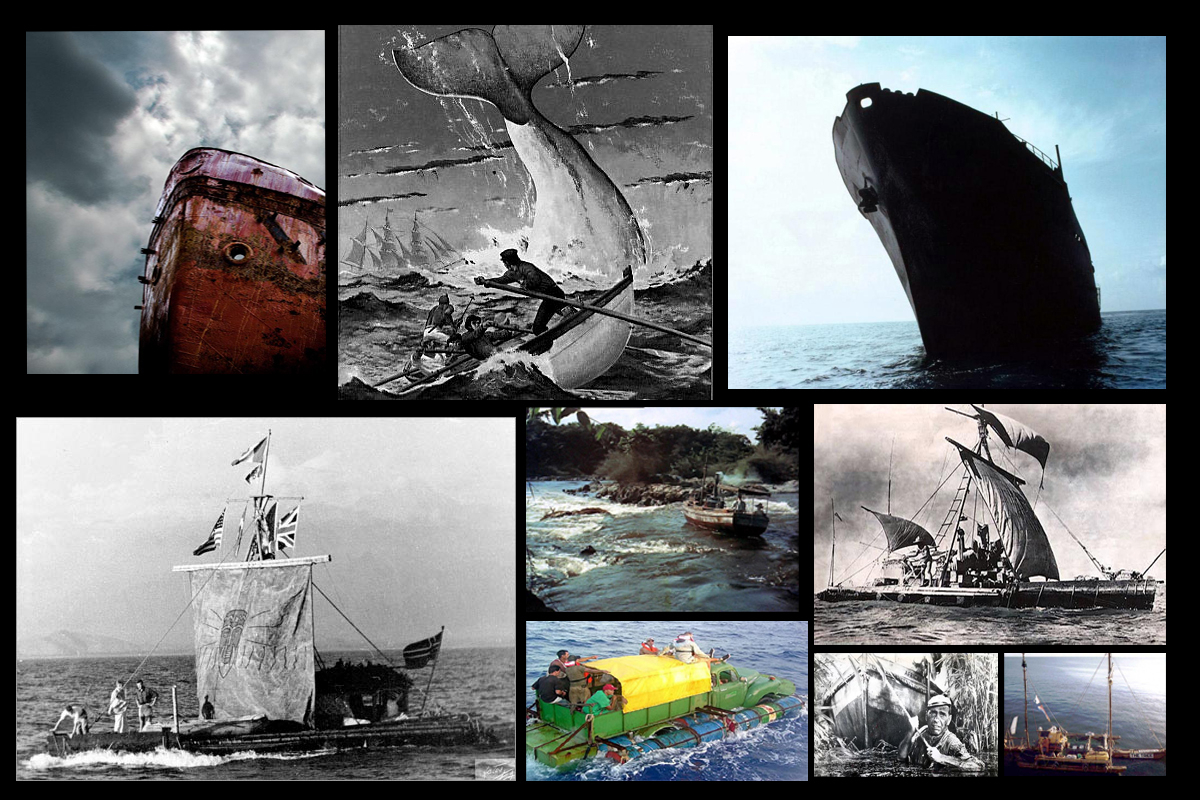 scroll down for English version
Eine cineastisch, kulinarisch und musikalisch ungewöhnliche Nacht
Mit wissenswerten Hintergründen versehen, von kulinarischen Köstlichkeiten begleitet und durch musikalische Unterstützung angereichert lädt die Time's Up Boating Association (TUBA) unter Leitung von Leo Schatzl zu einer abenteuerlichen Filmnacht durch die Ozeane der Welt.
Boote sind Raumkapseln, angetrieben von Sehnsucht nach Weite, nach Freiheit und Erlösung. Ihre Navigatoren sind Visionäre, Forscher, Getriebene auf der Suche nach neuen Horizonten, auf der Flucht vor der Enge und den Beschränkungen ihrer Gegenwart.
Zu geniessen sind die folgenden Filme und die extravagante Menüfolge welche den Köstlichkeiten der Ziel-, Durchzugs- oder Starthäfen der Abenteurer in den Filmen folgen.
[collapse collapsed]
FILMFOLGE
KON-TIKI
Dokumentarfilm, Norwegen/Schweden 1950, 77 min
Regisseur: Thor Heyerdahl
Der Film "Kon-Tiki" besteht aus schwarz-weiß-Aufnahmen, die Thor Heyerdahl und seine Crew während ihrer gewagten Überfahrt gemacht haben. Sie beschreiben das Abenteuer vom Bau des traditionellen Balsa-Bootes über das Leben und die Gefahren an Bord bis zur spektakulären Landung auf den polynesischen Marquesa Islands. Für Abenteuerfans sind 90 Minuten Spanung garantiert!
ALLEIN IM PAZIFIK
Spielfilm, Japan 1963, 97 min
Regisseur: Kon Ichikawa
Fünf Jahre lang träumte er davon. In der Nacht des 12.Mai 1962 ist es endlich so weit: Der 23-jährige Kenichi Horie (Yujiro Ishihara) hisst heimlich die Segel zu seinem Abenteuer - einer Reise von Osaka nach San Francisco in seiner kleinen Segeljacht "Mermaid". Ganz alleine und schlecht ausgerüstet, ohne Hilfsmotor; doch das macht ihm nichts aus. Es wird eine beschwerliche Reise, die drei Monate dauern wird ...

DER KALTBLÜTIGE PINGUIN
(Episode von DREI CABALLEROS)
Animation, USA 1944, app. 10 mim
Regisseur: Norman Ferguson
Der kleine Pinguin Pablo wohnt am Südpol. Da es ihm dort aber viel zu kalt ist, unternimmt er viele Versuche, von dort wegzukommen und in den warmen Süden (eigentl. Norden) zu reisen, was ihm schließlich auch gelingt ...
ÜBERLEBEN MIT RÜDIGER NEHBERG - Teil 2:
"Im Tretboot nach Brasilien"
Dokumentarfilm, ZDF 1988, 42 min
Eine von Nehbergs ersten spektakulären Aktionen für die durch Goldgräber bedrohten Yanomami-Indianer in Brasilien. Dabei hat Nehberg Angst vorm Wasser, keine navigatorische Erfahrung und ist immer seekrank. Gerade deshalb reizt ihn der Trip. Die Kampfschwimmer der Bundeswehr machen ihn mit einem Horrortraining seeklar. Dann strampelt er los. Mutterseelenallein. Nach rund zweieinhalb Monaten ist er drüben.
Für hartgesottene Videonauten gibt es die Möglichkeit für ein spätes Bonus-Feature:
DAS TOTENSCHIFF
Deutschland/ Mexiko 1959, 97 min
Regisseur: Georg Tressler
Der junge Seemann Philip Gale geht in Holland an Land, wo ihm eine Prostituierte Papiere und Barschaft stiehlt. Er erlebt eine kurze Zeit des Glücks mit der jungen Bauerntochter Mylène und wird im Hafen vom polnischen Heizer Lawski angeheuert, der ihn auf die Yorikke bringt. Das Schmugglerschiff mit Matrosen aus aller Welt, die ohne Papiere arbeiten, stellt sich als morscher Seelenverkäufer heraus ...
[/collapse]
[collapse collapsed]
SPEISENFOLGE
1. GANG
Lachstartar und Stockfisch
2. GANG
Pfirsiche versenkt in Roquefortcreme
(das ist schlicht die passendste Speisenvorstellung für die polynesischen Marquesa Islands unseres exquisiten Kochduos)
3. GANG
Maki-Variationen mit eingelegten Ingwer und Algensalat
4. GANG
Pinguin-geformte Eiscreme
Fisch in Gelee
Eisbälle aus Kokos
5. GANG
pao de queijio – brasilianische Käsebällchen
feijoada - brasilianischer Bohneneintopf
molho de pimenta
guacamole
serviert je nach Anlass auf getrockneten Bananenblättern oder doch den kleinen Wikinger-Schiffen, begleitet mit einer Auswahl von warmen Getränken denen es an Alkohol im Kältefall nicht mangeln soll.
[/collapse]
[collapse collapsed]
-----------> English Version



a cinematic, culinary and musically unique night,
furnished with some precious background information, accompanied with culinary delicacies and enriched with acoustic support, the Time's Up Boating Association – with Leo Schatzl at the helm – invites you to a night of adventurous films which bring you over all the oceans.
Boats are space capsules, driven by aspiration for vastness, for liberty and release. Their navigators are visionaries, inquirers and driven spirits in a quest of new horizons, on the run from the limitations and constraints of today.
Enjoy with us the following movies and treat yourself with a flamboyant order of courses, which follows in taste the regions the adventurists in the movies leave from, cross or go to.
LIST OF FILMS

KON-TIKI
Documentary, Norway/Sweden 1950, 77 min
Director: Thor Heyerdahl
Classic Academy-Award winning documentary film - Biologist Thor Heyerdahl suspecting that the South Sea Islands had been settled by a race from thousands of miles east decided to prove his theory. His expedition was hailed as one of the most fantastic feats of daring of its time. In 1947, Heyerdahl and his crew embarked from Peru on a balsa wood raft built according to the traditions of South America's pre-Columbian Indians. After 101 days on the open sea amid raging storms, whales, and sharks, they landed on the Polynesian island Raroia.
ALONE ACROSS THE PACIFIC
Feature Film, Japan 1963, 97 min
Director: Kon Ichikawa
1963 Japanese true-life drama from the acclaimed director Kon Ichikawa. Spurred on by a desire to break free from his life in Japan, young Kenichi Horie (Yujiro Ishihara) sets sail in his small boat, 'The Mermaid', to single-handedly cross the Pacific Ocean. Pounded by the waves and beset by the psychological problems of loneliness, he almost reaches breaking point, both physically and mentally. The film is based on Horie's own log of the voyage.
THE COLD-BLOODED PENGUIN (Episode of THE THREE CABALLEROS)
Animation, USA 1944, app. 10 mim
Director: Norman Ferguson
A story about the little penguin Pablo, who dreamed of moving to a warmer climate. After several false attempts, he makes a boat out of a chunk of ice. All goes well, until he crosses the equator....
ÜBERLEBEN MIT RÜDIGER NEHBERG
"Im Tretboot nach Brasilien"
documentary, Germany 1988, 42 min - german only
Rüdiger Nehberg, also known as 'Sir Vival', (born 1935) is a German human rights activist, author and survival expert who introduced survival training to Europe. He is the founder and chairman of the anti-FGC organization TARGET, and chairman of the organizations Friends of Peoples Close to Nature. Since 1980, he has been involved in defending the interests of the Yanomami Amerindian tribe. In 1987, Nehberg crossed the Atlantic Ocean in a pedal boat and contributed to the provision of a protected reservation for the Yanomami.
for the hard-boiled videonauts a late-nite bonus:
THE DEATH SHIP
Germany / Mexiko 1959, 97 min
Director: Georg Tressler
The Death Ship describes the predicament of merchant seamen who lack documentation of citizenship and cannot find legal residence or employment in any nation. The narrator is Gerard Gales, an American sailor who claims to be from New Orleans, and who is stranded in Antwerp without passport or working papers. Unable to prove his identity or his eligibility for employment, Gales is repeatedly arrested and deported from one country to the next, by government officials who do not want to be bothered with either assisting or prosecuting him. When he finally manages to find work, it is on the Yorikke, the dangerous and decrepit ship of the title, where undocumented workers from around the world are treated as expendable slaves.
MENU
1st COURSE
salmon-tartar & dried cod
2nd COURSE
peaches sunken in Roquefortcreme
(that's how our chef-duo approches the culinary imagination of the Polynesian Marquesa Islands)
3rd COURSE
assortment of Maki - with pickled ginger and seaweed-salad
4th COURSE
jellied fish
frozen coconut marshmallow
penguin-shaped ice-cream
5th COURSE
pao de queijio – Brazilian cheese balls
feijoada - Brazilian bean stew
molho de pimenta
guacamole
all dishes are served in dried banana-leaves or maybe even in small Viking-vessels, accompanied with an assortment of warm drinks, which easily can be - if appropriate - converted into grog.
[/collapse]
Partners:
Leo Schatzl, Timotheus & Wiltrud Hackl