Site:
Time's Up Laboratories // Online
Clean Cargo APPLIED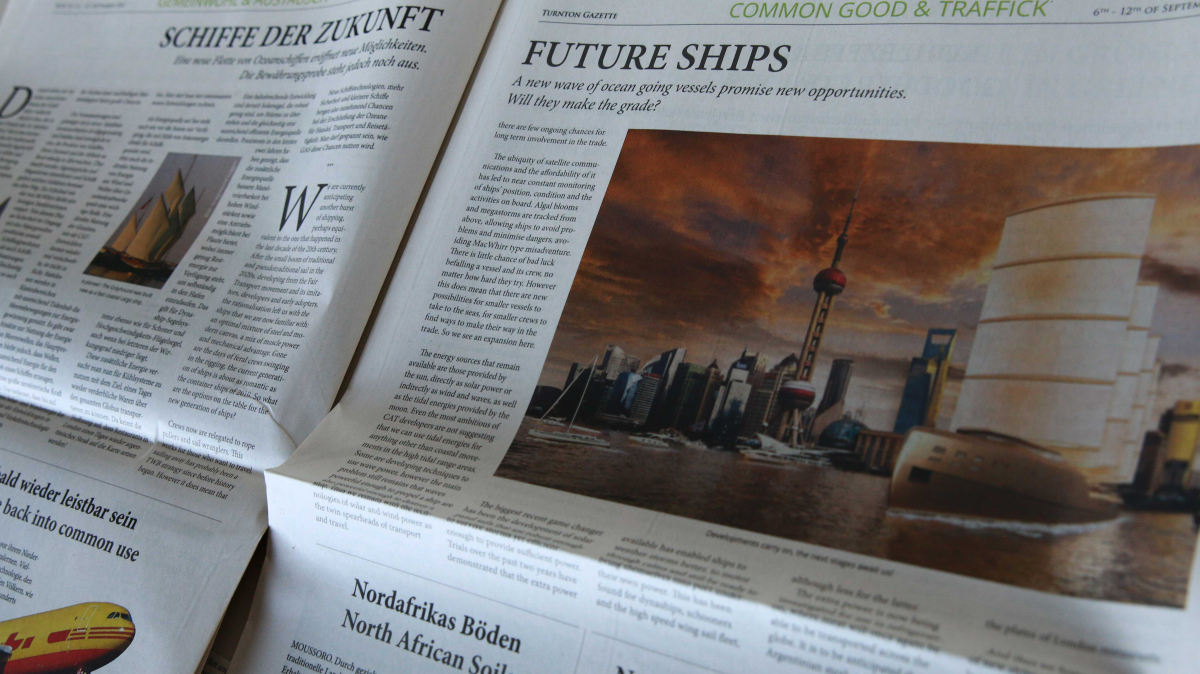 90% of Everything is transported by sea and pretty much everything gets transported before we use it. Thus the question of the cleanliness, or lack thereof, of transport practices is crucial. Logistics are, to a great extent, the gears of trade. As we all know, if the gears are grinding, then they are destroying something. Recent reports of freighters' poisonous exhausts, of cargo ships running up on reefs, of transport workers stuck far from home all indicate that there is something grinding badly in the gears of commerce.

This series of talks will introduce distinct elements of the global network of transport and cargo, whether it is the chains of supply of fashion, foodstuffs or electronics, the practices of transport labour, the tax optimisations and responsibility dodging of hidden networks of ownership or the toxic emissions of modern transport.

Our first three speakers will join us for lunch, as covid-19 restrictions make this the best way to gather. Please feel free to join us by this link. The sessions will be recorded for later viewing.
 
13th October 2020 Gertrude Klaffenböck, Südwind. (Gespräch auf Deutsch) The Clean Clothes Kampagne. Fast Fashion is a fact of the early 20th century. One of the clearest examples of unclean cargo is the production, manufacture, delivery, distrubution and disposal of clothing.The Clean Clothes Kampagne investigates the processes of making and delivering clothes, building transparency tools to allow customers to see more of what is going on, not only on the way to them, but after the clothes have been disposed of as well.
14th October 2020 Lucy Gilliam, Transport & Environment. (Talk in English) Emissions in the maritime industry.
When we think Clean Cargo, one opposite is the rusty, smoke belching container ships bringing cheap goods from afar.
Transport & Environment
(T&E) is an umbrella organisation with 63 NGO member organisations across Europe. T&E is co-founder of the Clean Shipping Coalition, a coalition of NGOs with observer status at the International Maritime Organisation (IMO), the UN agency responsible for the regulation of the global shipping fleet. Lucy Gilliam's portfolio of work includes campaigning to stop the use of heavy fuel oil (HFO) in the Arctic and shipping climate campaign calling for UN and EU shipping regulations to stop all greenhouse gas emissions from shipping by 2035.
15th October 2020 Davis Uitz, Gmias. (Gespräch auf Deutsch) Solidarity Farming.
The transport of foodstuffs across large distances is a major theme for clean cargo. No matter how clean the production, with organic farming and well paid, fairly treated farmers and farm hands, the transport of foodstuffs can be a huge detriment. David Uitz will share some of his insights working with two projects, the Fruits of Solidarity and Gmias.
Fruits of Solidarity
is a network of organic activist producers that direct market their wares. Gmias is a start up Community Supported Agriculture project in Leonding, where the delivery of food into the city is undertaken by bicycle.
---
Deutsche Version
90% von Allem wird über Seewege transportiert, und so ziemlich alles was wir kaufen legt weite Strecken zurück bevor wir es in Händen haben. Daher ist die Frage der Sauberkeit bzw. des Mangels an Sauberkeit und Umweltverträglichkeit der Transportpraktiken von entscheidender Bedeutung. Die Transportlogistik ist in hohem Maße das Getriebe des weltweiten Gütertransports. Wiederkehrende Berichte - ob nun über giftige, Ökosysteme ruinierende, Abgase der Transportschiffe, über auf Riffe auflaufende und diese zerstörende Frachter oder verheerende Arbeitsbedingungen für Transportarbeiter*innen die weit entfernt ihrer Herkunftsländer festsitzen - deuten klar darauf hin, dass Sand in das Getriebe des Handels über den Seeweg geraten ist.

In unserer Vortragsreihe zum Thema CleanCargo werden verschiedene Elemente des globalen Transport- und Frachtnetzes vorgestellt. Beginnend bei Lieferketten von Mode, Lebensmittel oder Elektronik, über die Arbeitsbedingungen der Transportarbeiter*innen, hin zur Steueroptimierung und anderen dubiosen Unternehmensgeflechten und natürlich die Thematik der giftigen Emissionen durch das modernen Transportwesen zu hoher See.

Unsere ersten drei Redner*innen haben wir zum gemeinsamen Mittagessen in unsere Werkstätten geladen. Die Talks werden live gestreamt, da dies aufgrund der Covid-19-Beschränkungen aktuell die beste Art der Zusammenkunft ist. Bitte zögert nicht euch uns  anzuschließen (Zoom link)!  Die Sessions werden zur späteren Ansicht aufgezeichnet.

13. Oktober 2020 - 13.00 Gertrude Klaffenböck, Südwind. (Gespräch in Deutsch)
Die Clean Clothes Kampagne.
Fast Fashion ist ein Faktum des frühen 20. Jahrhunderts. Zugleich markantestes und anschaulichstes Beispiel für Unclean Cargo ("Dreckige Fracht"). Egal ob man den Blick bei Mode nun auf dessen Herstellung, Lieferung oder Entsorgung wirft.
Die Clean Clothes Kampagne untersucht sämtliche Herstellungs-, Transport- und Entsorgungsprozesse von Kleidung und baut Transparenzinstrumente auf, die erlauben, sowohl den Weg zur Kund*in als auch jenen nach der Entsorgung einzusehen.

14. Oktober 2020 - 13.00 Lucy Gilliam (Gespräch in Englisch)
Transport & Environment (T&E) - Emissionen in der maritimen Industrie.
Während wir an Clean Cargo denken, ist das Gegenteil der Alltag: rostige, rauchig rülpsende Containerschiffe, die billige Waren aus der Ferne anliefern.
T&E ist eine Dachorganisation mit 63 NGO-Mitgliedsorganisationen aus ganz Europa. Ist Mitbegründer der Clean Shipping Coalition, einem Zusammenschluss von NGOs mit Beobachterstatus bei der Internationalen Seeschifffahrtsorganisation (IMO), jener UN-Agentur, die für die Regulierung der weltweiten Schifffahrt zuständig ist.
Zu Lucy Gilliams Arbeitsbereich gehören Kampagnen zur Beendigung der Verwendung von Schweröl (HFO) in der Arktis und die Klimakampagne für die Schifffahrt, die fordert, dass die Schifffahrtsvorschriften der UN und der EU bis 2035 die Verwendung alle Treibhausgasemissionen in der Schifffahrt verbietet.

15. Oktober 2020 13.00 Davis Uitz, Gmias. (Gespräch in Deutsch)
Solidarische Landwirtschaft.
Der Transport von Lebensmitteln über weite Distanzen ist ein zentrales Thema für Clean Cargo. Egal wie sauber und ökologisch die Produktion ist, wie fair bezahlt & behandelt Landwirt*innen und Landarbeiter*innen sind - der Transport kann immer noch enormen Schaden anrichten.
David Uitz wird einige seiner Erfahrungen und Erkenntnisse, gesammelt im Zuge von zwei Projekten ("Fruits of Solidarity" und "Gmias") weitergeben. Fruits of Solidarity ist ein Netzwerk von aktivistischen Bio-Produzenten, die ihre Waren direkt vermarkten. Gmias ist ein Start-up-Projekt für gemeinschaftsunterstützte Landwirtschaft in Leonding, bei dem die Lieferung von Lebensmitteln in die Stadt mit dem Fahrrad erfolgt.