Site:
Time's Up Labs - Industriezeile 33B
Our habourside labs meet book launch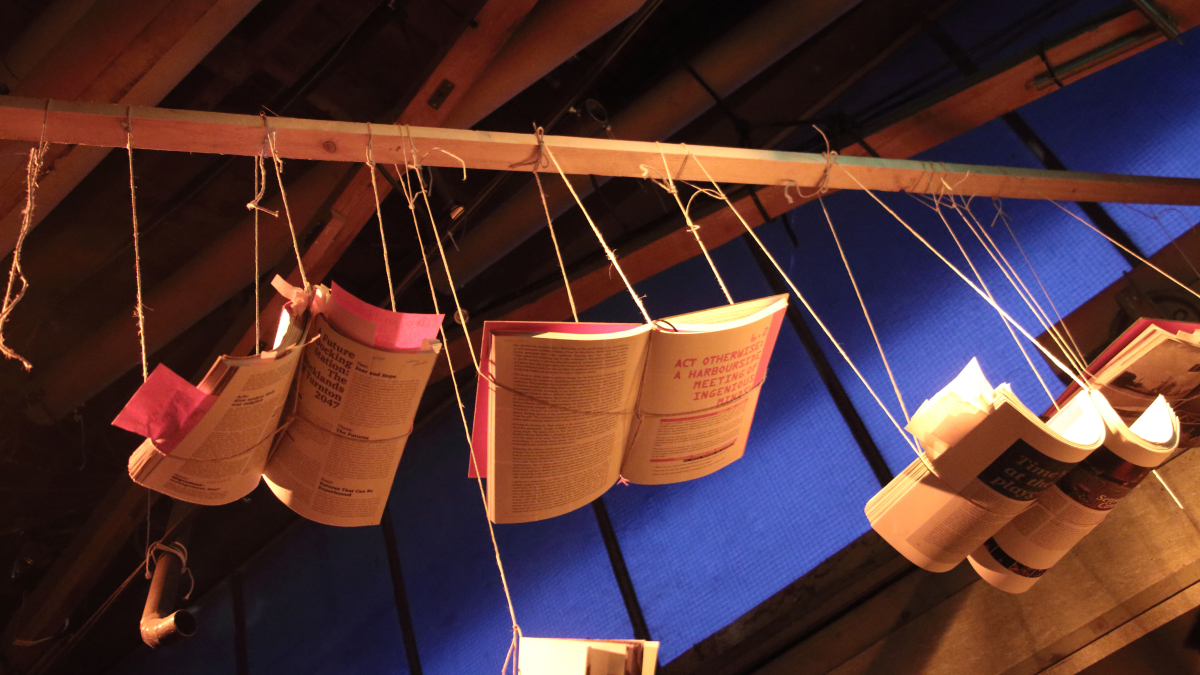 Es ist wieder einmal so weit - wir wollen teilen. In konkreten Fall manche der Überraschungen die wir erfahren haben, genau wie einige der (Er-)kenntnisse die wir sammeln durften und natürlich auch ein paar Ideen wie es denn von hier weg weitergehen könnte. Überraschungen, Erkenntnisse und Ideen - zusammengestellt und -getragen während Curiouser and Curiouser Cried Alice. Ein mehrjähriges Projekt mit Fokus auf Erfahrbare Zukünfte und deren Wirkung auf ein Publikum. Viele unserer dabei gesammelten Erfahrungen, Einsichten und Ideen haben wir nun in einem Buch zusammengefasst.
Das wollen nun mit euch feiern - erwarten wird euch ein druckfrisches Buch, erfrischende Getränke, leckres Essen, und das sommerliche Ambiente des Linzer Gewerbehafens.
===
It's that time again - we want to share. In this case, we want to share some of the surprises we have experienced, some of the knowledge we have gained and, of course, some ideas on how to move on from here. Surprises, insights and ideas - gathered and shared during Curiouser and Curiouser Cried Alice. A multi-year project focusing on Experiential Futures and their impact on an audience. We have collated and collected many of our experiences, insights and ideas into a book, which has been printed and will be awaiting us, fresh off the presses and smelling of ink.
We would like to celebrate this with some drinks, some nibbles and some lovely discussions on a quiet summer evening in the Linz industrial harbour.
Special thanks to:
all those making this publication possible!
Alex Davies, Alexandra Fruhstorfer, Anab Jain, Anne Seubert, Barbara Prainsack & Hendrik Wagenaar, Changeist | Susan Cox-Smith & Scott Smith, Claire Marshall, Eva-Maria Spreitzer, FoAM | Maja Kuzmanovic & Nik Gaffnay, Gerald Bast, Idil Gaziulusoy, Ilija Trojanow, Jacques Servin | The Yes Men, Jeremy Bentham, José Ramos, Julia Nuesslein, Julian Bleecker, Katharina Unger, Lucy Kimbell, Martina Oettl, Michaela Davies, Noah Raford, Paul Graham Raven, Peter Hayward,, Petra Schaper-Rinkel, Rok Kranjc, Sam Bunn, Sophie Howe, The Extrapolation Factory | Chris Woebken & Elliott Montgomery, Time's Up, Tim Boykett, Tina Auer, Trevor Haldenby, Wenzel Mehnert