Site:
AXA Building, Avenida dos Aliados, 208
A scenario workshop to explore the "x factor" of xCoAx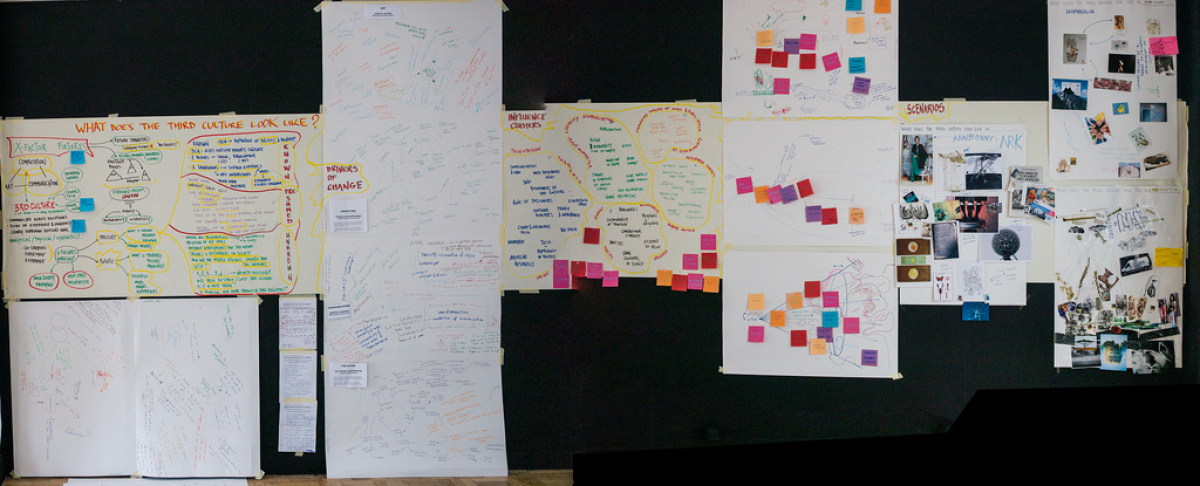 The scenario workshop and pre-enactment, carried out by FoAM, are part of the European project Future Fabulators, our current pan-European project, co-ordinated by us, co-organised by FoAM (Belgium), M-ITI (Portugal) and AltArt (Romania). xCoAx 2014 a conference on Computation, Communication, Aesthetics and X is, among others, an associated partner.

The "x factor" in xCoAx – that spellbinding glue that holds arts, computation and communication together – is what makes this conference and its participants unique. The global intertwingling of social, economic, political, environmental and technological worlds leaves us facing a host of complex and urgent issues. To address these contemporary challenges we have chosen to design a scenario workshop for the xCoAx edge-dwellers. We draw on participants' shared imagination to search for possible (and preferable) futures at the interstices of the "x factor", moving beyond disciplinary boundaries towards the elusive Third Culture.

In this day-long workshop we will explore the past, present and possible futures of the "x factor" by examining what we know and assume, but also what is unknown to us at the moment. Well understood foresight techniques, including scenario building and horizon scanning, will be introduced alongside more experimental methods bricolaged together by FoAM's experiential futurists into a process that will be premiered at xCoAx.

We will guide participants to co-create a set of possible future scenarios – short, evocative stories that encourage the participants to let go of the status-quo and imagine what could be otherwise. The purpose of the scenario building is not an attempt to predict the future, but to create a more dynamic relationship between the present moment and the possibilities it contains, to sift through cultural myths, examine macro-trends and better understand where we are now to see more clearly where we might want to go.

After the workshop, the Future Fabulator's team (and other willing participants) will translate one or more of the scenarios into an experience prototype that we call a "future pre-enactment" – a hybrid between a theatre game, speculative fiction and insight meditation. During the pre-enactment, guests will be guided through an experience of what it might be like to live in different "x factor" futures. The pre-enactment will take place on the last evening of the conference and last up to one hour. There can be no spectators, only participants.